About Officer Dental Care
Your Family-Friendly Dentists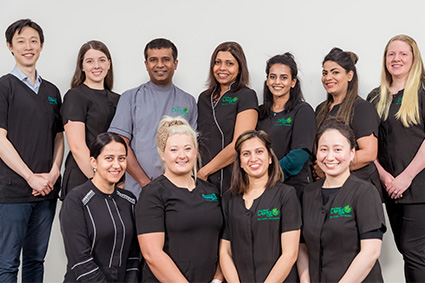 You'll find our modern and friendly practice located in the heart of Officer on Princess Highway. Our building plays an important role within the local community, as you'll find a wide array of vital services (such as a medical centre) also on-site.
Our team is led by husband and wife duo, Dr Dumi Medagoda and Dr Inoka Medagoda, who have over 22 years of professional dentistry experience between them. While each dentist is highly trained across all facets of dentistry, Dr Inoka is particularly passionate about orthodontics, providing patients with Invisalign or braces for a beautiful smile. Alternatively, Dr Dumi has had immense experience in implantology, and is able to complete even the most complex of dental implant procedures.
As parents to two young children themselves, they understand the gentle and fun treatment required when dealing with younger patients. Additionally, they are passionate about providing the highest quality of oral health care across general, cosmetic, restorative, orthodontic, and preventative dentistry.
Advanced Diagnostic Tools for Superior Treatment
We continuously invest in our practice and have some of the most advanced diagnostic tools at our disposal, including intra-oral cameras and OPG x-rays. By keeping ahead of the latest dental technology and techniques, we are able to provide our patients with the highest quality of oral health care. That's the Officer Dental Care difference.
A Caring, Nurturing Environment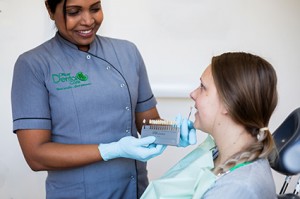 Our team pride themselves on providing a caring and nurturing approach to dentistry in a calm and relaxed environment. We believe that visiting the dentist shouldn't be an anxious, stressful, or negative experience. Instead, we focus on each individual patient and build one-on-one relationships based on trust and respect; so that you can feel safe and relaxed each time you visit Officer Dental Care.
This is why we also offer pain-free extractions and dental implants, as our patient's comfort and wellbeing always come first. During our follow-up calls to patients who have undergone surgery, they often report that they don't require pain medication, as there is no pain or discomfort to alleviate!
Kinder with Kerry Workshops
Our Kinder with Kerry Workshops for childcare centres is one of the ways Officer Dental Care is able to forge strong connections in the community and promote good oral health habits to children. Learn more >
Schedule an Appointment Today!
To experience the gentle, friendly, and high-quality care we provide, please contact us today to schedule an appointment. We look forward to meeting you and your family!

Officer Dental Care | 03 8608 7974