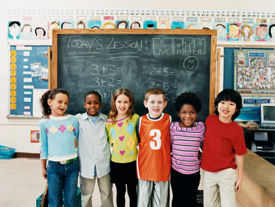 At Officer Dental Care we bulk bill eligible children between the ages of 2-17 under this scheme. The Scheme provides financial support up to $1000 for basic dental services for children between 2 and 17 years of age.benefits are not available for any orthodontic treatment or cosmetic dental work and cannot be paid for any service provided in a hospital.
Are you eligible for Child Dental Benefits Scheme?
A child's eligibility for CDBS is assess by department of human services. Your child may be eligible if aged between 2-17 years, child is eligible for Medicare and receiving certain government benefits e.g. Family Tax Benefit Part A
For more information, and to check your eligibility, please go to the Department of Human Services website.
Children's' Check-ups
Visiting the dentist is no longer a thing to be worried about. At officer dental care we create a vibrant and friendly atmosphere for children that they will be looking forward to coming to the dentist. Every dental visit we will make sure we make it a fun filled adventure to your children.
Looking after your child's teeth from an early age is very important for the child's entire future. Developing healthy habits from a young age helps prevent having to have extensive dental work as adults. Early prevention means no ongoing dental work, no extra costs or no pain from toothaches.
At Officer Dental Care we provide following services and much more to your children:
Preventative care
Assesment of jaw malocclusion
Assesment and identification of teeth grinding
Assesment of development of teeth
Assesment of thumb sucking/tongue thrust and mouth breathing
Early intervention orthodontic treatment
Custom designed mouth guards
Planning Your Child's First Dental Visit
We understand well, that the thought of a dental appointment can be a very daunting for some children as well as for parents. You are the best role model for your children. We want to make sure children have a positive attitude towards the dental visit. We would like you and your child to get familiarize with the dental practice and the staff before any procedure. We will spend much time required to make it pleasant and positive to your child. Even if we may not get much done on the first dental visit, do not be disheartened, it is all about making the whole experience pleasant for your child until he is ready for big things.
At Officer Dental Care we encourage families to bring their children for oral assessment from as young as 3 years old. This gives chance for your child to get familiar with the practice and also allows us to cultivate oral preventative habits from a young age.
At your child's first visit we will be checking your child's teeth, gums and development patterns. We will educate you and your child on brushing, flossing and healthy food for healthy teeth.
We will offer you a preventative care pack to take home and advise you on caring for your child's teeth. We pride ourselves on ensuring that your little ones develop and maintain healthy smiles throughout their lives.
Orthodontics for Children
Orthodontic treatment for children is not only about braces.it is about getting an early assessment of your child's teeth and jaw bones and the pattern they will develop. Some dental malocclusions in children need early treatment while some can wait for self-correction or better correction at teenage years. Early correction of some problems like thumb sucking and tongue thrusting is very important for your child's jaw bone to be developed beautifully and to avoid the future need of braces.
If you are concerned about your child's teeth and how they are developing, it is very important to bring your child for an orthodontic consultation. It could be a simple issue that could be fixed easily.
Important Links:
Child Dental Benefits Schedule
Claiming Child Dental Benefits Schedule