Children's Dentistry at Officer Dental Care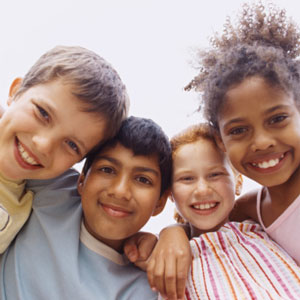 The Officer Dental Care team believe in providing gentle and caring dental treatment to patients of all ages, especially when it comes to children. We love assisting children from the very beginning of their oral health care journey to ensure they achieve and maintain beautiful smiles and healthy mouths.
Our friendly team are also passionate about providing a vibrant and friendly atmosphere for young patients, ensuring that they will love coming to visit the dentist. We do this through offering free rides in the chair, brushing lessons, and goodie bags with oral health care gifts.
Dental Care You Can Trust
Just some of the gentle and helpful dental services we provide for your children include:
Preventative care (including fluoride treatments in flavours your kids will love)
Assessment of jaw malocclusion
Assessment and identification of teeth grinding
Assessment of development of teeth
Assessment of thumb sucking/tongue thrust and mouth breathing
Early intervention orthodontic treatment
Custom designed mouth guards (available in a variety of styles to keep their teeth protected whilst playing sport)
Creating Healthy Teeth and Gums for Little Ones
Looking after your child's teeth from an early age is very important for their future health and wellbeing. Developing healthy habits from a young age also helps to prevent them from having extensive dental work as adults.
Our professional dentists recommend that you bring your child into our practice for their first dental checkup as soon as their baby teeth begin to emerge (usually between 6 and 18 months). At your child's first visit we will be checking your child's teeth, gums and development patterns. We will also educate you and your child on brushing, flossing and healthy food for healthy teeth (but promise to make it fun!).
Additionally, it's always a good idea to bring your young child along to either your own appointments or those for their siblings, as this allows them to familiarise themselves with our practice, team, and the various equipment we use, helping to alleviate dental anxiety down the track.
Kinder with Kerry Workshops
Officer Dental Care run regular workshops at schools and childcare centres to educate children on the importance of good oral heath habits. Learn more >
Want to Learn More?
Depending on your health insurance policy, we can often bulk-bill children's checkup appointments on-the-spot. Additionally, your child may be eligible for the Child Dental Benefits Schedule, which provides financial support of up to $1000 for basic dental services for children between 2 and 17 years of age.
If you're unsure whether your child is eligible, please get in touch, as we can look this up for you. To schedule an appointment for your child, please call 03 8608 7974 today!

Children's Dentist Officer, Beaconsfield, Pakenham, Nar Nar Goon VIC | 03 8608 7974