Veneers at Officer Dental Care
Achieve the Smile of Your Dreams with Porcelain Veneers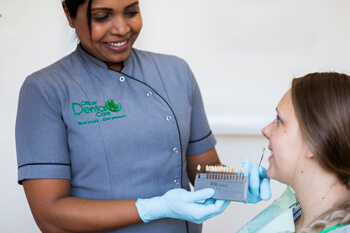 Veneers are just one of the popular cosmetic dental services we offer at Officer Dental Care. Not only do we offer high-quality porcelain veneers to makeover a patient's smile, but we also offer affordable composite veneers for those who want a more beautiful smile, but with a less-expensive cost.
Additionally, our experienced team can provide you with E-max veneers, which are crafted at a very reputable local lab. Unlike traditional porcelain and ceramic veneers, E-max veneers don't require tooth etching to provide durability and stability.
All three options allow a patient to quickly and easily transform the front of their smile, giving them a more confident smile that they'll want to show off.
What are Veneers?
Porcelain and composite veneers are thin layers of material that are placed over the surface of the teeth. The veneers are colour-matched and custom-made to fit over your teeth precisely, ensuring a natural-looking smile that you're sure to love. They are permanently bonded to your natural teeth, allowing comfort when you eat, drink, and go about your daily lifestyle.
Dr Dumi has managed many full mouth rehabilitations using veneers. Once his patients receive their veneers, they exclaim that they finally have the confidence and drive to begin smiling again. This is perhaps one of the most rewarding aspect of Dr Dumi's work – helping his patients to smile with pride.
Should You Get Veneers?
There are a number of reasons why a patient may choose veneers over other cosmetic dental treatments. Veneers are particularly useful for those who have discoloured, chipped or crooked front teeth. Additionally, if you suffer from a gappy smile or teeth which are misshapen, you may benefit from this popular procedure.
We only use the most trusted techniques and materials available in the industry to craft your personalised veneers. They can usually last for 15 years or more depending on your oral health and hygiene practices. When you receive veneers from our professional team, we will also give you advice on how to clean them and to keep them in the best condition, helping your smile to remain gorgeous for as long as possible!
Want to Learn More?
Want to find out more about our composite, porcelain, or E-max veneers? Please call us today!

Dental Veneers Officer, Beaconsfield, Pakenham, Nar Nar Goon VIC | 03 8608 7974