Dr Geethapriya Elangovan BBiomed (Melb) DDS (Melb)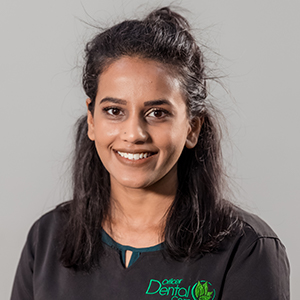 Geetha completed her Doctor of Dental Surgery preceded by Bachelor of Biomedicine, at the University of Melbourne. She has experience working in both public and private dental clinics across Victoria. Geetha regularly attends continued education and professional development courses to improve her skills further and keep her knowledge updated.
Although she enjoys practising all aspects of dentistry, Geetha has a particular interest in aesthetic and paediatric dentistry. She prides herself in providing her clients with a relaxing experience through her gentle and caring nature. Geetha is passionate about delivering patient-centred care and treats every client with respect and dignity.
In her spare time, Geetha enjoys playing badminton and loves cake decoration.
Request an Appointment
If you'd like to achieve a bright and beautiful smile, contact us today to book an appointment with Dr Geethapriya!

Dr Inoka Medagoda | 03 8608 7974