Dr Lakmini de Fonseka (Dentist)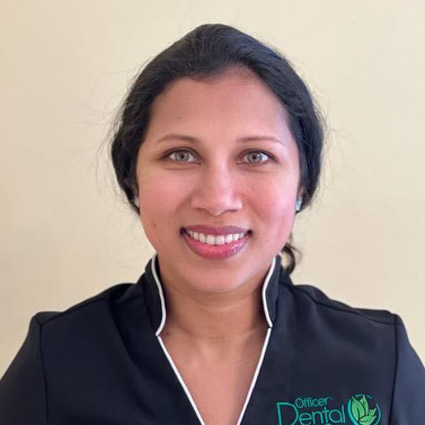 Dr Lakmini de Fonseka (Dentist) is a passionate and empathetic dentist who always puts her patients' interest first. Her gentle nature helps her patients feel at ease and relaxed.
She has amassed over 10 years' experience working as a dentist in the United Kingdom prior to moving to Melbourne with her family. She has worked within both the National Health Service (NHS) and the private sector in the UK during this time, and has been an approved supervisor for dentists undergoing training for the performance list (PLVE) in the UK. She currently maintains her registration with the General Dental Council (the regulatory authority in the UK) and is a member of the College of General Dentistry in the UK.
While she enjoys all avenues of dentistry, she has a particular interest in aesthetic dentistry, and has completed an internationally-recognised Certificate in Cosmetic Dentistry and Aesthetic Restorative Dentistry. She is constantly thriving to enhance her knowledge and skills, and has also completed the Diploma of Membership of the Joint Dental Faculties of the Royal College of Surgeons of England (MJDF RCS Eng). Further, she is a member of the Australian Dental Association (ADA).
Outside dentistry, she enjoys travelling, swimming and spending time with her family. She is also a keen dog- lover and loves pampering her two dogs.
Request an Appointment
If you'd like to achieve a bright and beautiful smile, contact us today to book an appointment with Dr Lakmini!

Dr Lakmini de Fonseka | 03 8608 7974