Mrs Kerry-Lea Huang (Oral Health Therapist)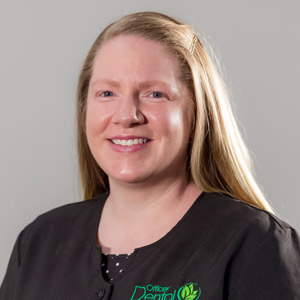 Kerry grew up in the south-eastern suburbs of Melbourne, where her dental career began 11 years ago as a dental assistant. Her interest in all things dental led her to continue studying and become an Oral Health Therapist, graduating from Charles Sturt University with a dual degree in Dental Hygiene and Dental Therapy in 2016.
By using a caring and gentle approach, Kerry is able to care for and treat both children and adults in the practice, helping people to maintain a healthy mouth for life. Kerry has been all over the world, from Mildura to Cambodia, helping children to improve their smiles.
At home, Kerry has a passion for dancing, where she met her husband David. Kerry is kept busy with her baby daughter Chloe, who will hopefully follow her parent's footsteps right onto the dance floor. They moved back to Officer to be closer to family and are enjoying venturing out to local cafes and walking tracks.
Kerry delivers preventative care including teeth cleaning, whitening, fillings, and helps ease problems, for adults and children. Kerry also works together with Dr Inoka to manage the needs of orthodontic patients wearing braces or Invisalign.
Kinder with Kerry Workshops
Kerry is proud to host the Kinder with Kerry Workshops for childcare centres. This allows Kerry and Officer Dental Care to connect with families in the community and promote good oral health habits to children. Learn more >
Request an Appointment
If you'd like to achieve a bright and beautiful smile, contact us today to book an appointment today!

Kerry-Lea Huang | 03 8608 7974