Dental Checkups at Officer Dental Care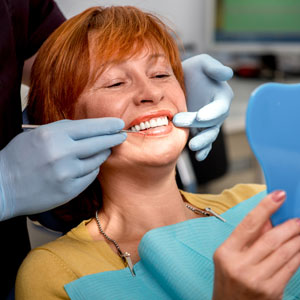 Maintaining the health and hygiene of your teeth and gums through regular dental checkups are a great way to prevent dental disease. By scheduling a checkup for you and your family at Officer Dental Care every 6 months, you can be assured that your teeth are being successfully cared for by our experienced oral health care professionals.
Your oral health is fundamental to the overall health of your body and at Officer Dental Care, we're passionate about providing you and your family with gentle preventive dental care. Not only do routine checkups maintain a beautiful smile that boosts your confidence, but they also help you to avoid big dental bills or treatments later down the track.
What to Expect
Our professional and experienced dentists carry out a number of procedures and assessments during a routine checkup to ensure your oral health and hygiene is in the best condition. Each checkup begins with a thorough assessment of your mouth, teeth, gums, and other soft tissues. Additionally, x-rays are taken to allow our dentists to see areas between the teeth or under the gumlines that might not otherwise be visible.
From here, we can discuss any modifications that need to be made to your oral health routine, as well as any treatments which may be necessary. Our dentists also screen for tissue changes, whilst keeping aware of any developing gum disease or bone loss.
Our preventative checkups also include a scale and polish to remove plaque and stain build-up. We will also apply fluoride varnish and fissure sealants if required, giving your teeth an extra boost in protection against decay.
Schedule Your Checkup Today!
We want to you to look after your oral health and encourage you to come in for a checkup every 6 months. We advise you to check your health insurance policy, as patients are often covered for a no-gap dental checkup.
Currently, Officer Dental Care are offering a new patient appointment special, which includes a checkup and clean, plus 2 bitewing x-rays for just $199. To take advantage of this offer and schedule an appointment for you or your family members, please call 03 8608 7974 today!

Dental Checkups Officer, Beaconsfield, Pakenham, Nar Nar Goon VIC | 03 8608 7974