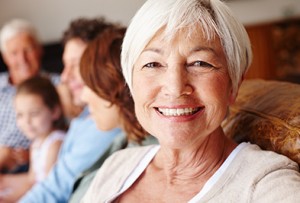 Are missing teeth negatively affecting your self-image? If yes, we can help thanks to
dental implants
. These synthetic tooth roots are made of a titanium screw and a post that is covered with a fixed restoration such as a bridge, crown or denture.
Natural-looking and strong, an implant is secured into the bone adjacent to your other teeth. After several months, the implant attaches to the bone, so it looks and performs like a natural tooth. In addition to general implants we are pleased to provide All on 4 Novel Biocare for full mouth rehabilitation.
What Are Some Benefits of Implants?
In addition to replacing missing teeth, implants
Enhance your appearance
Boost your confidence
Make speaking easier
Are more comfortable than dentures
Allow you to eat with ease
Are durable and long-lasting
A Two-Step Process
Getting an implant involves two steps — a surgical phase and a prosthetic stage. During the surgical phase, we place the implant into the jawbone and perform any necessary bone grafting. The second stage — the prosthetic phase — includes fabricating the crown to be placed onto the implant. This step takes place after the implant has joined with the jawbone — a period of about three months.
At Officer Dental Care, all of our dentists are proficient in performing the prosthetic stage of the process. Often, a patient comes to us with an implant that requires a crown restoration.
One-Stop Convenience
Now, we can perform both phases of implant treatment. This ability to handle the implant process from start to finish in one location is convenient for patients and more affordable than having a specialist perform the treatment. When it comes to complex cases, however, a specialist is employed to carry out the surgery.
If you'd like to find out if you're an ideal candidate for dental implants, contact us today to schedule an appointment. We look forward to helping you smile with confidence!