Pain-Free Tooth Extractions at Officer Dental Care
At Officer Dental Care, your oral health and wellbeing is our priority. While we take every effort possible to save a tooth, there are some cases when extracting a problematic tooth presents a much more successful outcome for the patient.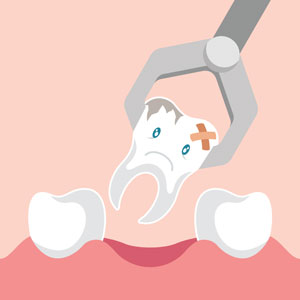 We're passionate about ensuring our patients remain comfortable, relaxed, and pain-free whilst undergoing dental treatment. We only ever want you to have a positive experience in our care because to us, our patients are our family.
This is why we offer pain-free tooth extractions, as our dentists really care about our patients having a quick and painless extraction. Thanks to the advanced diagnostics our practice uses, coupled with both Dr Dumi's and Dr Inoka's many years of experience, they are able to perform even the most complex of extractions, including wisdom tooth removal. You can rest assured knowing that you will be looked after by our gentle and caring team of professionals throughout the process and afterwards.
When Does a Tooth Require Extraction?
There are a number of risk-factors that can cause a tooth to be removed, including extensive dental decay, dental trauma and infection. In some cases, a tooth may have undergone root canal therapy and not reacted positively, requiring the tooth to be extracted altogether.
Wisdom teeth, on the other hand, may need removal due to a number of common reasons. Some of these include:
Roots growing in problematic positions
Misaligned teeth
Teeth which are unable to erupt due to being trapped under the jaw line
Severe pain and discomfort
Infected or inflamed gums
Abnormalities with bite
If you're experiencing pain or discomfort, we wholly recommend that you get in touch with our practice, so our professional dentists can assess your mouth for signs of problematic wisdom teeth. It's always better to address an issue as soon as it arises, rather than allowing it to turn into a more complex procedure (not to mention worst pain and infection down the track!).
Want to Learn More?
Please call 03 8608 7974 to speak to a friendly member of our team today. We're always on-hand to help you and your family.

Tooth Extraction Officer, Beaconsfield, Pakenham, Nar Nar Goon VIC | 03 8608 7974