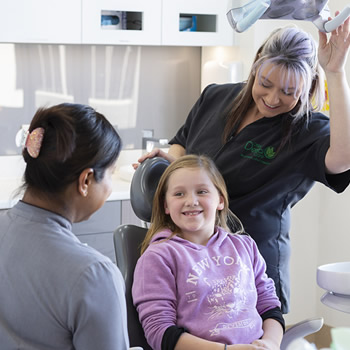 Our warm and compassionate dental team here at Officer Dental Care provides gentle dental care to children of all ages. Kids can feel right at home in our upbeat and friendly environment. To help them feel even more comfortable, we encourage you to bring your young child along to either your appointments or those for their older siblings. Doing so helps your young child to become more familiar with our practice, team, and the types of equipment we use.
Visiting the Dentist Is Fun
We make visits enjoyable for our young patients by providing free rides in the dental chair, offering brushing lessons, and giving out goodie bags with oral health care gifts.
Our Children's Services
Here are some of the oral health promoting services we provide to kids:
General checkups
Preventative care
Emergency care
Early intervention orthodontic treatment
Custom designed mouthguards
Various assessments (jaw, tooth development, thumb sucking and more)
Starting Healthy Habits Young
Looking after your child's teeth from an early age is critical for their future health and wellbeing. If they cultivate healthy habits from a young age, they could avoid having extensive dental work as adults.
We encourage you to bring your child in for their first dental checkup as soon as their baby teeth start to emerge (usually between 6 and 18 months). During that first checkup, we will assess your child's teeth, gums and development patterns. You and your child also will get tips on brushing, flossing and smile-friendly foods to keep their teeth healthy.
The Child Dental Benefits Schedule
Did you know that your child may be eligible for the Child Dental Benefits Schedule? The CDBS provides financial support of up to $1000 for basic dental services for children between 2 and 17 years of age. If you're not sure if your child is eligible, please contact our practice.
CONTACT US